Saturday, August 1, 2009
I have just inserted a few of the items I have had published in the National Magazine "Create & Decorate" I have been contracted for four more issues in the year 2010 so keep your eyes open and be sure to subscribe I have wonderful new items going to be published.
Posted by

Primitive Painter
at 1:43 PM
No comments:

Sunday, March 22, 2009
I cannot believe that I actually found clay flower pots made in the USA Yesterday, I cannot wait to get them painted up and for sale. That find gives me
optimism
that as time goes on we will find more and more made in the USA items.
I am going to paint my new pots with the so popular primitive stars theme so be looking for them on the web site, of which you can get to by clicking any photo within my blog. I have added my rendition of prim pots just below.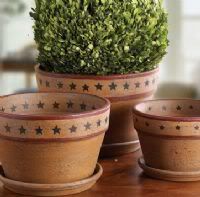 Posted by

Primitive Painter
at 4:40 AM
No comments:

Friday, March 13, 2009
Posted by

Primitive Painter
at 5:13 AM
1 comment: